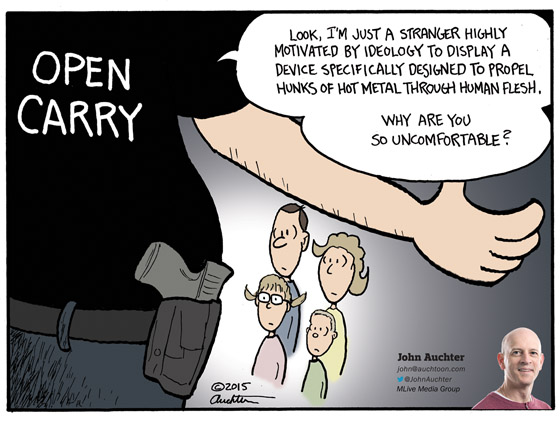 Originally published in the Ann Arbor News, Bay City Times, Flint Journal, Grand Rapids Press, Jackson Citizen Patriot, Kalamazoo Gazette, Muskegon Chronicle, Saginaw News
March 15, 2015
As you might imagine, I have received quite a bit of feedback on this one. People are passionate about guns in these United States, so it's not at all surprising. Really, the only thing I don't quite understand is how questioning the wisdom of open carry at public events makes me a feminine hygiene product. But more than one person seems convinced of this.
Recently in Ann Arbor there was a young man who walked into a high school for a choir concert with a gun on open display on his hip. Because of the way Michigan concealed weapon laws work, this was perfectly legal, but it still caused quite a stir. Soon thereafter more than 25 others open carried into a school board meeting. There was a similar test of wills going in in Grand Rapids last year at public meetings with the city council.
America is a large and varied land with a large and varied people. It's difficult to make one-size-fits-all laws. That's why it's so important for people to consider the consequences of their actions. It may be legal to attend a school event or crowded public meeting with a gun on open display, but it doesn't necessarily make it a good idea. It completely changes the focus. So it's no longer, "looking forward to hearing my kid sing" or "I want a stop sign at the end of my street." It's "who's the dude with the gun?" That's more than a little selfish. And if you are doing it to prove a point, well then you can't play the victim when people are upset with you.